The Stakeholders We Serve
The stakeholders we serve, include the CMO and marketers, procurement and agencies. In a typical engagement:
The CMOs funds the Decideware agency management initiative to generate gains for the business
Marketing Procurement manage Decideware and the software platform
Marketers are engaged in agency evaluation programs, developing scopes of work, and production spend management
Agencies are actively engaged as stakeholders because they derive significant benefits
The 4 Levels of Value Delivery to Advertisers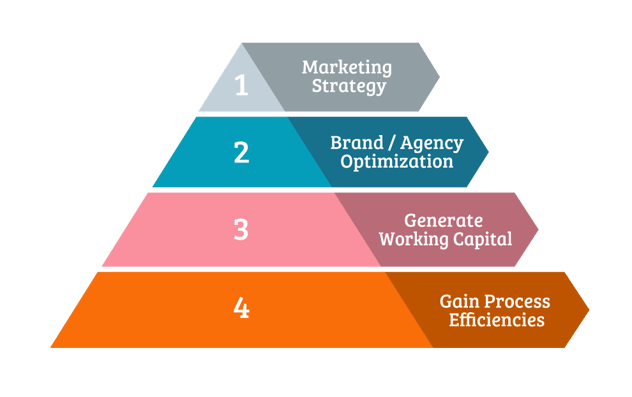 1. Inform Marketing Investment Strategy
Gain early transparency to guide annual agency spend planning
Use data to pivot spend decisions
Build robust investment arguments for Finance
Ensure brand tactics are aligned with Marketing strategies
Early detection of trends impacting business
2. Enable Client-Agency Excellence
Enable client-agency excellence, everywhere
Keep stakeholders & relationships visible and informed with meaningful data
Access spend & performance dashboards to maintain gains
Compare brand resources, funding, performance against other brands
Gain greater visibility into resource utilization
Manage and track progression and changes to scope throughout the year
3. Optimize Working Capital
Optimize working capital in all markets
Find spend efficiencies to reinvest
Minimize staffing, scoping and production redundancies
Streamline scope cycles and gain visibility into production fees
Establish baseline pricing by deliverable 'should cost'
Early detection of pricing trends and cost outliers
4. Gain Process Efficiency
Enable Agency Evaluation, Scope of Work and Production Spend Governance programs
Standardize processes and access efficiencies
Widely deploy best-practice agency management programs
Engage all stakeholders in centralized and distributed decision making
Ability for Agency to better plan resources and realize efficiencies in their operations


When Advertisers want Enterprise – they Upgrade with Decideware.